Has your US Bank account been compromised by outside parties? - Not this time, its a scam ...
This spoof email appears to take the form of a text email with a link (see image below), but it is an html email which contains a cloaked link - one which is disguised to look like it will take you to the genuine US Bank site, but will instead take you to a forged page.
This scam also exploits a very serious bug in Internet Explorer browsers which allows the URL (site address shown in the browser address bar) to be spoofed. This means that if you use that link, Internet Explorer browsers will open the forged page that it points to, but with the URL shown as http://www.usbank.com (see image below). However, the true URL is http://bos.es.kr/ which traces back to a Korean school - Daejeon Boseong Elementary School.
This bug has been increasingly exploited by email scammers of late, and we eagerly await a patch from Microsoft. The vulnerability can also allow a fake URL to be shown in the status bar of Microsoft Outlook and browser products (while holding the cursor over the cloaked link). We have set up a Browser Test cloaked link which you can use to see if your browser is vulnerable. You can also check links in emails or web pages for cloaking using our Link Checker, and you can check for URL spoofing while at a web page using our URL Checker.
The forged web page consists of a web form which requests your Credit card number and ATM PIN, this is captured by the scammers using a PHP script while you are directed to a forged confirmation page and then subsequently the genuine usbank.com site (see image below).
If you have received this email, please remember that it is very common for these email scams to be redistributed at a later date with only slightly different content or the same but with the fake page(s) hosted by a different provider. Also, once you have received one of these hoaxes, it is also common place to receive at least another one and usually a day or two after the first, although not necessarily from the same apparent sender.
The Spoof Email ...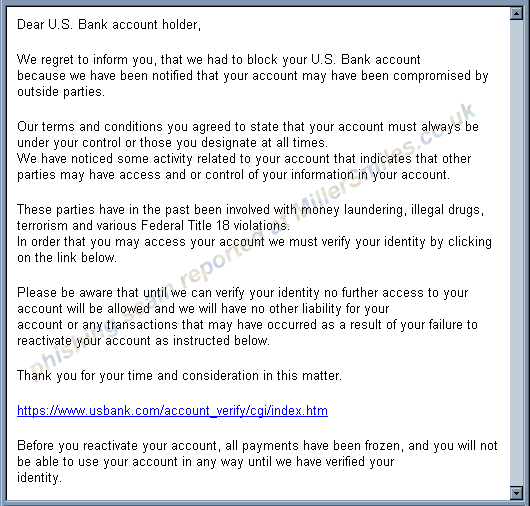 The bogus web page ...