" Details Confirmation, SECURITY ALERT: PIease read this important message ... "
Yet another instance of forged web content being delivered in a pop up style window, in front of the genuine site's homepage, making it appear to be a pop up generated byt he genuine page. There is also the use of a like sounding domain name for the forged content (see images below) ...
http://www.personal.barclays.co.uk.userset.net:4903/b/ resolves to an anonymous DNS service and has also been used in today's Halifax Phishing Scam.
Submitted data is captured by a local (located on the same server as the forged content) PHP script.
If you have received this email, please remember that it is very common for these email scams to be redistributed at a later date with only slightly different content or the same but with the fake page(s) hosted by a different provider. Also, once you have received one of these hoaxes, it is also common place to receive at least another one and usually a day or two after the first, although not necessarily from the same apparent sender.
The Spoof Email ...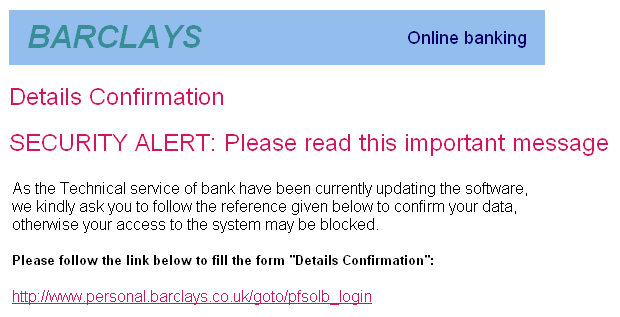 The bogus web page ...