" Dear client of the Halifax Internet Banking, The recent cases of fraudulent use of clients accounts forced the Technical services of the bank to update the software. "...
Update at 18:24GMT - We have just received this statement from Halifax ...

I can confirm that this has not been issued by Halifax plc or any subsidiaries of the Halifax Bank of Scotland plc Group. This is not the first time we have seen such an e-mail and is referred to as "phishing", we urge any recipients to ignore them and delete them.

Our position on such e-mails can be found at www.halifax-online.co.uk .


Jason Clarke
Senior Press Officer
Group Communications
HBOS plc
The Spoof Email ...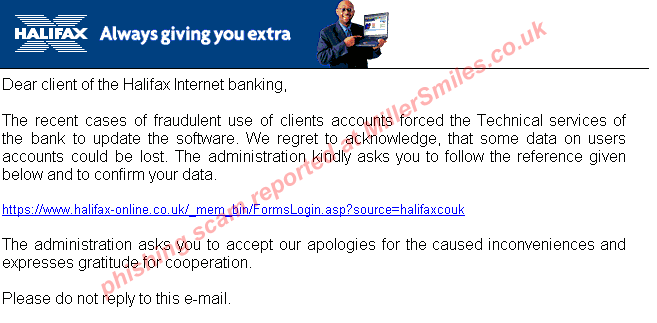 The bogus web page (which opens in a pop up style window in front of the genuine page as shown) ...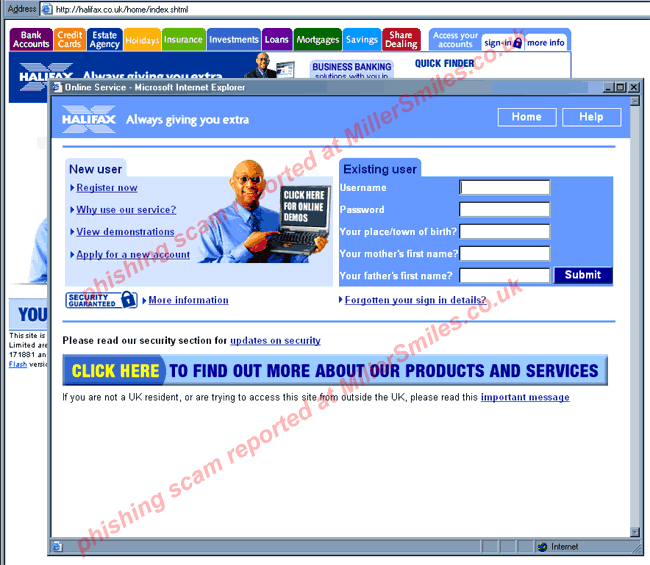 If you have received this email, please remember that it is very common for these email scams to be redistributed at a later date with only slightly different content or the same but with the fake page(s) hosted by a different provider. Also, once you have received one of these hoaxes, it is also common place to receive at least another one and usually a day or two after the first, although not necessarily from the same apparent sender.